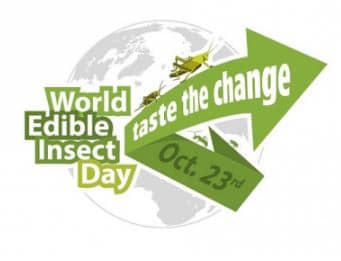 World Edible Insect Day
October 23 2016 marks the second annual World Edible Insect Day (World Edible Insect Day). The mission of WEID is to promote insect eating in Europe, North America and Australia, and through its activities, show the insect-eating regions of the world that insect eating is not old-fashioned nor reserved for only the poor and needy.
Eating insects provides people with many health benefits, and farming insects has a very small ecological footprint compared to all other protein sources.
Entomo Farms and El Catrin for WEID
Entomo Farms has partnered with El Catrin Destilleria in the Historic Distillery District of Toronto to celebrate WEID in style. Entomo Farms is launching their brand new chili lime flavoured whole roasted crickets at El Catrin in the spirit of World Edible Insect Day. El Catrin is known for their Mexican tapas style cuisine prepared by famed chef Olivier Le Calvez, so crickets are not unfamiliar to the El Catrin menu. For the WEID event, Chef Olivier has prepared Taco de Chapulines, with guacamole, cotija cheese and red onion, as well as a beverage feature: Mezcal with sangrite and a tajin orange slice served with chili lime crickets from Entomo Farms.
Entomo Farms has also supplied the Ontario Science Centre with whole-roasted crickets for their World Edible Insect Day event, happening the same weekend.