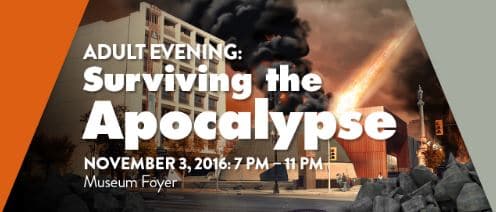 Manitoba Museum: Surviving the Apocalypse
Happening this evening at the Manitoba Museum, guests will explore what would happen in the event of the end of the world. Entomo Farms is supporting the event with edible cricket samples, because we know that crickets are an incredible source of nutrition, have a super long shelf life, and taste absolutely delicious… Definitely the kind of food you would want on your Doomsday Den shelf in the event of the Apocalypse.
Whether it's caused by super virus, a killer asteroid, or an alien invasion – the end of the world presents some interesting challenges! Learn how to adapt and survive at stations located throughout the Museum Galleries.
Grab your survival squad and come down to the Museum where there will be:
Flint knapping demonstrations, showing you how to make your own tools
Experts teaching you what plants are safe to eat in the Manitoba wilderness
A cricket eating challenge – learn the benefits of eating lower on the food chain
Music by DJ King Cabernet
Refreshments and food
Prizes
Follow the conversation through Twitter and Instagram as the event rolls out.