Cricket Ricotta Pancakes
These Cricket Ricotta Pancakes are perfect for breakfast before a long day, packed as a mid morning snack, or for lunch with a side of syrup for a dip. The cricket powder (cricket flour) is chock full of protein, B12, iron, calcium, prebiotic fibre and so many other amazing minerals and vitamins. The pancakes are a great back-to-school meal or snack, giving you and your family all the energy you need for the entire day.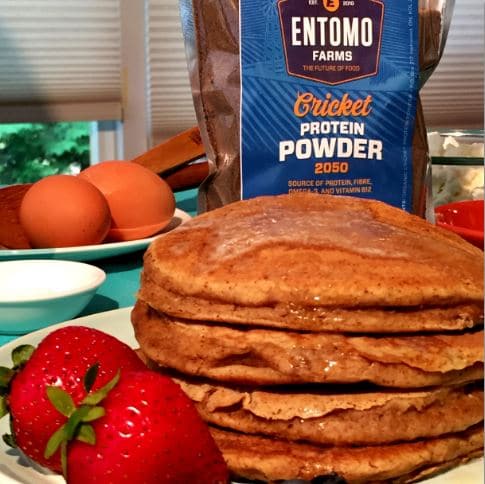 Ingredients
1½ cups flour
3 Tbsp brown sugar
1 tsp baking powder
1 tsp baking soda
1/4 tsp salt
2 eggs
1 cup ricotta
1 cup almond milk or regular milk
1 tsp vanilla
1 Tbsp safflower or canola oil
½ cup water
Directions
In a large bowl, whisk together flour, cricket powder, brown sugar, baking powder, baking soda and salt.
In a second bowl, whisk eggs. The whisk in ricotta, milk, vanilla and oil.
Make a well in flour mixture. Pour in egg mixture and stir just until combined. Add water to thin and to correct consistency.
Heat a large non-stick frying pan to medium temperature. Lightly brush with remaining butter or oil if needed. When hot, scoop about 1/4 cup batter into pan. Cook until bubbles form on the top, 2 to 3 min. Flip and cook until golden brown, about 2 more min. Reduce heat if pancakes are browning too quickly. Remove and cover to keep warm.
Serve with maple syrup or your favorite pancake topping!
Keep on cooking them as your family will come running!
Watch it!