Pecan Entomo Bars
Thank you so much to our friend @cricketstobetsy for this absolutely delicious recipe for Pecan Entomo Bars made with the healthy goodness of whole roasted crickets. It tastes just like your favourite pecan bar, but this one is different! Thanks to the crickets, you will get some protein, iron, calcium, B12, Omega 3 and 6, and a whole bunch of other amazing nutrients!
@cricketstobetsy took her favourite pecan bar recipe, and simply jazzed it up with some crickets! Easy and delicious!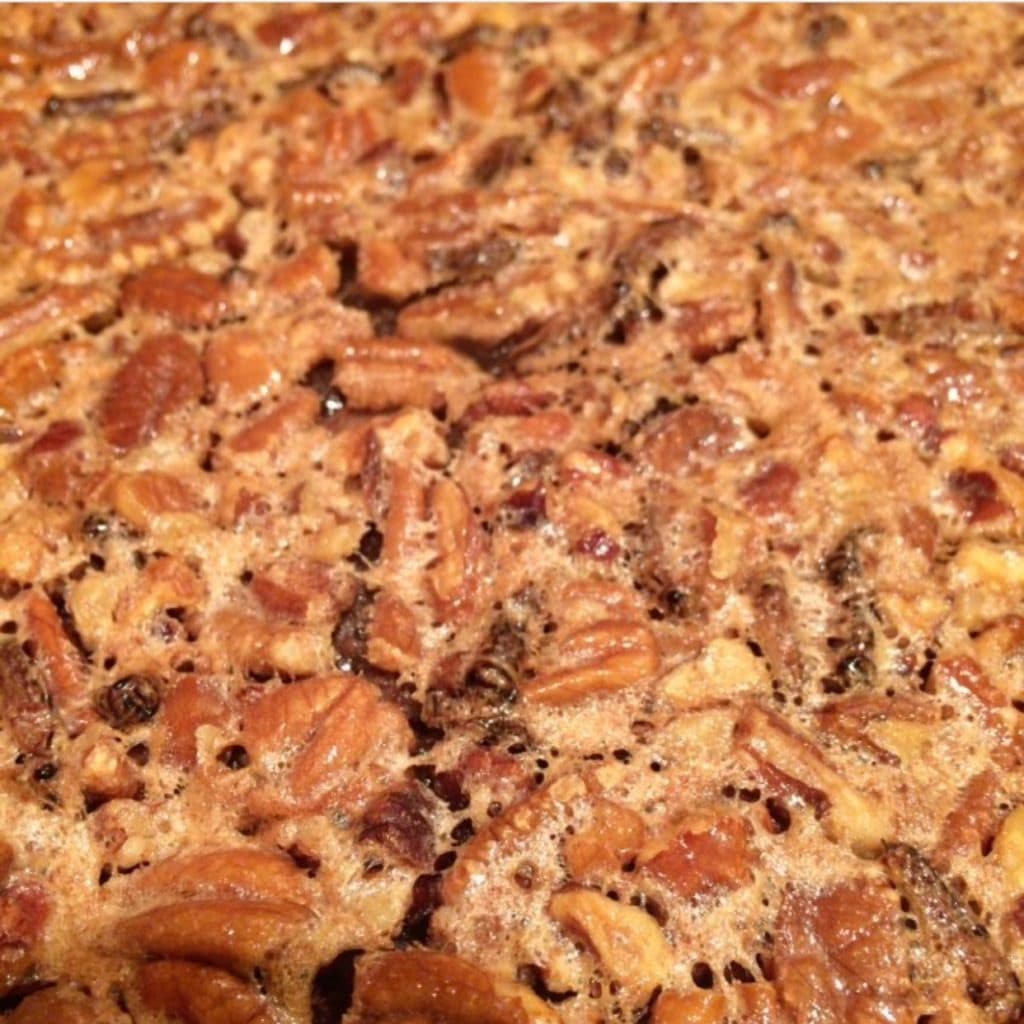 Pecan Entomo Bars Ingredients
3 cups all-purpose flour
½ cup sugar
½ teaspoon salt
1 cup margarine
4 eggs
1 ½ cups light corn syrup
1 ½ cups sugar
3 tablespoons margarine (melted)
1 ½ teaspoons vanilla extract
1 ½ cups chopped pecans
½ cup (25 g) roasted crickets (legs and antennae removed)
Directions
Preheat oven to 350 degrees F (175 degrees C) and lightly grease a 10X15 inch jellyroll pan.
In a large bowl, stir together the flour, 1/2 cup sugar, and salt. Cut in 1 cup of margarine until mixture resembles coarse crumbs. Sprinkle the mixture evenly over the prepared pan, and press in firmly.
Bake for 20 minutes in the preheated oven.
While the crust is baking, prepare the filling. In a large bowl mix together the eggs, corn syrup, 1 1/2 cups sugar, 3 tablespoons margarine, and vanilla until smooth. Stir in the chopped pecans, and then gently fold in the roasted crickets.
Spread the filling evenly over the crust as soon as it comes out of the oven.
Bake for 25 minutes in the preheated oven, or until set. Allow to cool completely on a wire rack before slicing into bars. Enjoy!