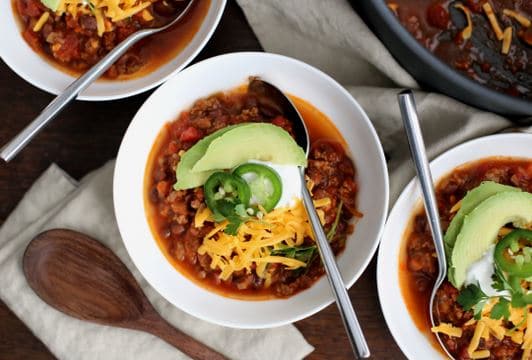 Party Cricket Chili
Looking for that perfect food to serve to the crew when you're watching the big game? Thanks to Brad for this absolutely DEEElicious recipe for Cricket Chili that has the perfect blend of flavours… your mouth will dance with delight! Brad is a modern day pirate. For real! Check out his Cricket Chili post, and make sure to check out his website.
Ingredients
Chili Powder (This makes extra)
Main Ingredients
Directions
Chili Powder
If it makes you feel better go ahead and dry-roast your whole spices first in a pan. Personally I think it has no value enhancing the flavour, if anything you risk burning and you will modify the original attributes. I will admit when the spice hits the pan with some heat you can smell it more intensely…maybe that's the only value.
Depending how hot you like it. Remove all the seeds, keep all of them or some. I use about 1/3 of seeds and toss into the pot.
Chop the peppers and put them into a grinder and bring to a dust.
Add all other spice items and mix. Put in a tightly sealed container or jar for up to six months.
Chili
On a medium-high pan. Add oil, then Onion, Celery, Red Pepper, Carrot and Garlic. Sauté till onions start to turn translucent.
Add in Chili powder and coat all the vegetables for about a minute then remove from heat.
Add all the other ingredients into your pot and simmer. Don't boil your chili….what are you British? lol
At some point you're going to need to start adding salt till you're happy with the results.
I like to use a blitzer in the chili just a little to get the visual look that I like. Or about 1/4 of your batch just put in a blender then return back to the pot is just as effective.
Add the Tequila if you so dare!