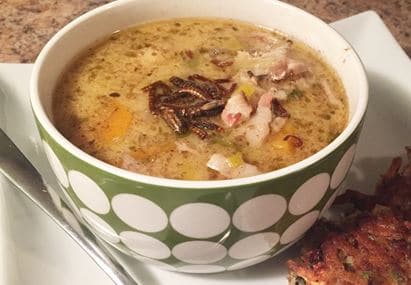 Paleo Seafood Chowder with Insects
Thank you so much to Kelsey for this incredible and creative recipe for Paleo Seafood Chowder made with cricket powder and topped with whole roasted mealworms. (You can use whole-roasted crickets as well, both provide a great crunch!) This chowder definitely eats like a meal, and will please even your fussiest guests!
For more delicious holiday inspired recipes, check out our Healthy Holiday Recipes blog
Ingredients
1 tablespoon coconut oil
1 white onion, diced
Approx 16 rashers of bacon (thinly sliced)
1 leek, diced
1 small sweet potato, diced into chunks
2 cloves of garlic, crushed
½ litre (1 pint) of stock (I used my homemade fish stock, but vegetable or chicken stock would work well)
½ litre (1 pint) of coconut milk
4-6 tbs of cricket powder (40-60 g) (more if you wish!)
Your choice of fish; I used:
Haddock
Salmon
Scotch boned kipper
Clams
Mussels
1 bay leaf
2 sprigs of fresh thyme
1 lemon
Directions
In a pan, melt the coconut oil and sauté the onions until they become translucent.
Add in the bacon and stir until it cooks thoroughly.
Add in the leek and garlic and keep stirring.
Pour in the stock and add the sweet potatoes, thyme and bay leaf, cooking for about 40 – 50 minutes, until the sweet potatoes are soft. Remove the bay leaf and thyme, then, add in the coconut milk, chopped fish and seafood and cook for another 5-10 minutes.
Season to taste, add a squeeze of fresh lemon Top with whole roasted crickets and meal worms.