Oatmeal Banana Cricket Powder Muffins
Thanks so much to our customer, Tasha, for sending us this recipe for Oatmeal Banana Muffins made with the nutritional goodness of Cricket Powder. She adapted this recipe from brendid.com to add the cricket powder and make it dairy free.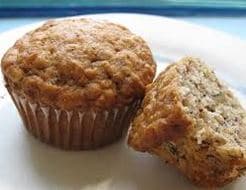 Ingredients
– 1 1/2 cups old fashioned oats (1 cup whole, 1/2 cup ground up)
– 1 cup cricket flour
– 2-3 bananas (1 cup mashed or 1 cup apple sauce)
– 2 large eggs, lightly beaten
– 1/4-1/3 cup maple syrup (depends how sweet you like it!)
– 3/4 cup full fat coconut milk
– 2 tsp vanilla extract
– 2 tsp baking powder
– 1/2 tsp baking soda
– 1/2 tsp salt
– 2 tsp cinnamon
Directions
Divide the oats into portions of 1 cup and 1/2 a cup
Preheat oven to 350 degrees
Place 1/2 cup of oats in the blender and blend until they reach a rough, flour like consistency
Mash the bananas well, they should have no-few lumps.
Add eggs, maple syrup, coconut milk and vanilla to the mashed bananas. Mix to combine.
Add the dry ingredients ( including the whole & ground oats, cricket flour, baking powder, baking soda, salt and cinnamon) to the wet ingredients and mix until incorporated. Allow these to sit for 10 minutes to soak the oats.
Optional: fold in 1/2 cup of dark chocolate chips, dried fruit, raisins or nuts
Scoop into muffin tin lined with muffin wrappers (makes 12-14 muffins)
Bake at 350 degrees for 20-23 minutes or until they pass the toothpick test
Let cool and enjoy!