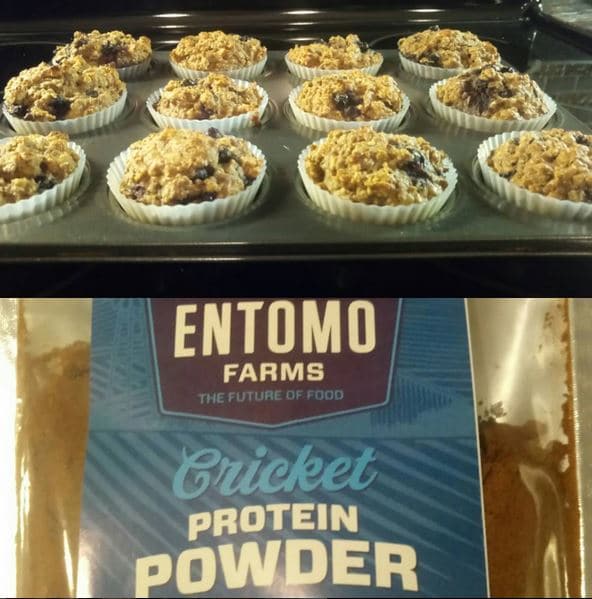 Oat Banana Cricket Blueberry Muffins
Thank you so much to @agilb096 for this easy, healthy and delicious recipe for Oat Banana Cricket Blueberry Muffins.
This is what she said about her muffins:
"How adventurous are you with trying new foods? Tonight I made these banana berry muffins using cricket protein powder from @entomofarms. I'm excited to try them and share with fellow adventurous friends."
Check out her website, Millions of Peaches, it's full of inspiration, and follow her on instagram!
Ingredients
1 cup quick rolled oats
¼ cup (40 g) cricket powder
¼ cup all purpose flour
½ cup whole wheat flour
¼ cup flax (ground or whole)
1 ½ tsp baking powder
1 tsp baking soda
½ tsp salt
1 ½ cups (3 or 4) bananas, mashed
¼ cup coconut oil or butter, melted
1 egg
1 cup fresh or frozen blueberries
Directions
Preheat oven to 375 F.
Line muffin tins or lightly spray tin.
Mix all dry ingredients in large bowl.
Whisk together bananas, coconut oil or butter and egg. Tip: if the bananas and egg are too cold, the coconut oil will return to solid state after melted. If using, add coconut oil in after whisking the other wet ingredients.
Mix wet ingredients into dry ingredients.
Fold in blueberries.
Evenly distribute batter amongst muffin tins.
Bake for 20 minutes or until cooked through.
Let cool on wire rack for 10 minutes.