Healthy Cricket Blueberry Muffins
These healthy blueberry muffins are a bit different than a traditional blueberry muffin. They are packed full of goodness from beginning to end, keeping you and your family smiling and moving all day long! The addition of cricket powder (cricket flour) packs a protein punch, and infuses the muffins with B12, iron, calcium, and prebiotic fibre as well as many other amazing vitamins and minerals. These healthy muffins are great for breakfast, a snack, on the go or on a hike!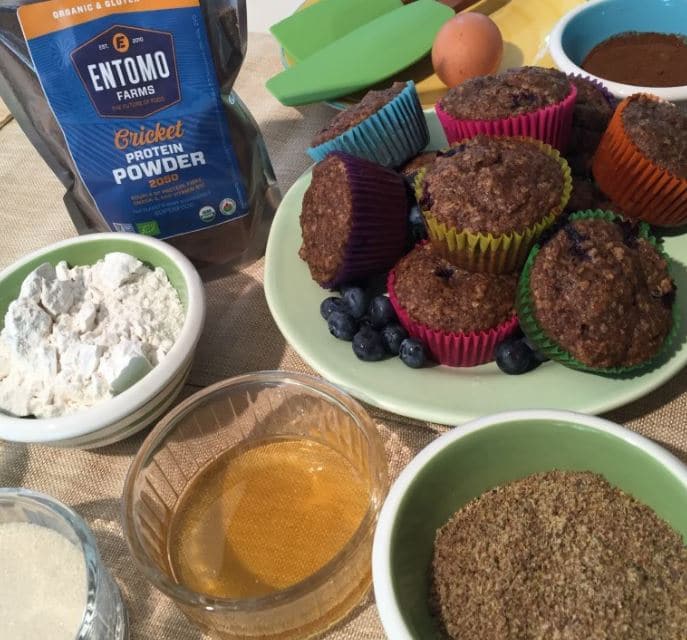 Ingredients
This recipe makes 12 Healthy Blueberry Cricket muffins
1/2 cup quick oats
1/2 cup hot tap water
¾ cup flour
¼ cup (40 g) cricket powder
1/4 tsp salt
1/4 tsp baking soda
3/4 tsp baking powder
½ tsp ground cinnamon
1/4 cup honey
1/4 cup organic sugar
1/2 cup vanilla yogurt
1 egg
1/2 tsp vanilla extract
1/4 cup canola oil
1/2 cup flax seed meal
¾ cup fresh blueberries
Directions
1. Preheat oven to 350 degrees.
2. Put 12 paper muffins liners into a standard muffin baking tray. Set aside.
3. In a small bowl combine oats and hot water. Set aside.
4. In a medium sized bowl, whisk together flour, baking soda baking powder, and salt
5. In a large bowl, whisk together agave nectar, sugar, yogurt, eggs, vanilla, oil, and flax meal. Add in oatmeal and dry ingredients, and stir until just combined. Fold in blueberries.
6. Fill liners about 3/4 full. Bake for 20-25 minutes, or until a toothpick inserted into the center muffins comes out clean.
These freeze well and make a great mini muffin, just reduce your cooking time by 5-10 minutes.