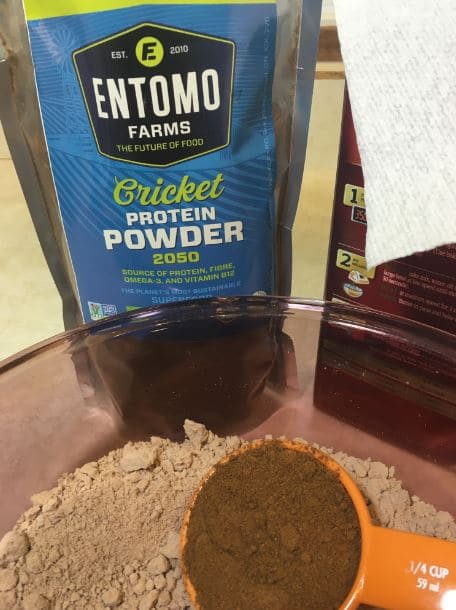 Halloween Cricket Cupcakes
Quick cupcakes for the not-so-homemade on-the-run mom! Use your favourite store-bought cake mix and just add Entomo Farms cricket powder!
The best thing about these cupcakes is that they look spectacular, and they taste so delicious and moist that you can easily fool everyone into believing that they really are homemade!
Ingredients
I box cake mix – red velvet or chocolate for Halloween!
¼ cup (40 g) Entomo Farms cricket powder
Orange icing – premade or follow recipe below
Halloween sprinkles for decorating
Icing:
For buttercream cupcake frosting, combine 3 cups of confectioner's sugar and 1 cup of butter with a mixer set to low, and mix for an additional three minutes on medium speed. Add 1 teaspoon of vanilla and 1 to 2 tablespoons of whipping cream and mix for one additional minute.
Add orange food coloring and you have your Halloween icing!
Directions
Line a muffin pan with 12 paper cupcake liners
Whisk ¼ cup (40 g) cricket powder with dry cake mix contents.
Follow the recipe on your chosen cake mix by adding required number of eggs, oil and water.
Fill muffins tins and bake at temperature and time indicated on cake mix instructions.
Remove from oven, cool and decorate!
You have now added cricket protein to your delicious school treat or Halloween party!