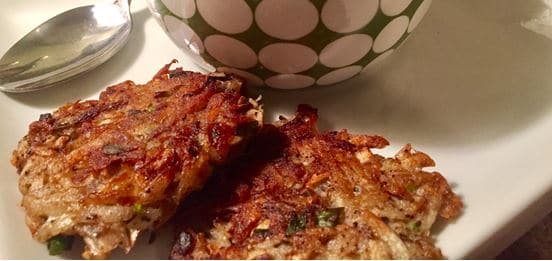 Deb's Latkes with Cricket Powder
We don't know who 'Deb' is, but what we DO know is that we absolutely love her latkes! Thanks to Kelsey for sharing Deb's Latke recipe with us. For most of us, latkes are a serious matter…fried potatoes are so decadent and delicious at the best of times, but with the shot of cricket powder in the recipe, these guys are also even a bit nutritious! Yes, please!
For more great classic holidays like this one, check out our Healthy Holiday Recipes blog.
Ingredients
3-5 large potatoes, peeled
1 large onion
3 eggs
1 Leek diced
1/3 cup flour
1/4 C (40 g) cricket powder
1 tsp. Salt
¼ tsp. pepper
¾ cup oil for frying
Directions
Use: 10-inch skillet
Yields: 4 to 6 servings
Grate potatoes and onion on the fine side of a grater, or in a food processor; or put in a blender with a little water.
Strain grated potatoes and onion through a colander, pressing out excess water. Add eggs, flour, cricket powder and seasoning. Mix well.
Heat ½ cup oil in skillet. Lower flame and place 1 large tablespoon batter at a time into hot sizzling oil and fry on one side for approximately 5 minutes until golden brown. Turn over and fry on other side 2 to 3 minutes.
Remove from pan and place on paper towels to drain excess oil. Continue with remaining batter until used up, adding more oil when necessary.
* Can also serve with applesauce or sour cream on the side.
Variation: Zucchini or Carrot Latkes: Substitute 5 medium zucchini or 5 medium carrots for potatoes.