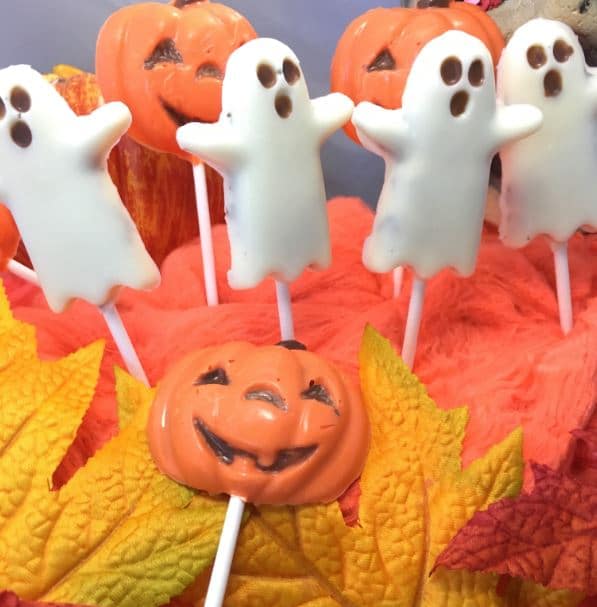 Chocolate Cricket Halloween Lollies
A great treat for the perfect Halloween party! Hidden in the center of these treats are the future of food…whole roasted crickets! This superfood is perfect for everyday and adds a healthy and fun surprise to these Halloween treats. These lollies are so easy to do, you are definitely going to want to get your kids to help you!
Ingredients
For 1 candy mold
You can find candy molds at your local bulk food store, and sometimes in your local dollar store. During Halloween, and other holidays, you can find great themed molds in many different shapes and sizes.
Chocolate melting wafers come in a rainbow of colours, and can be purchased at your local bulk food store. The mold that you are using will let you know how much chocolate is needed to fill the entire mold
This recipe uses a ghost candy mold, and holds approximately 3 ounces of white chocolate wafers.
4-6 lollipop sticks
Food-grade paintbrush for painting the molds (available at your local bulk food store)
4 tsp (10 g) Whole Roasted Crickets
Directions
Follow mold instructions and melt necessary amount of chocolate wafers in the microwave, or using a double boiler on the stove
Paint each mold with desired floor. For eg: for Ghosts use a small amount of melted dark chocolate for eyes and mouth. Cool for 2-3 minutes in the refrigerator and then fill mold 1/3 with melted white chocolate. Set in fridge again for 2-3 minutes.
Add roasted crickets and then cover with remaining melted white chocolate. Add lollypop sticks and make sure to roll a bit to cover with chocolate.
Set in refrigerator for 30 minutes.
Surprise your kids or friends at the office with a sweet and sustainable Halloween treat!