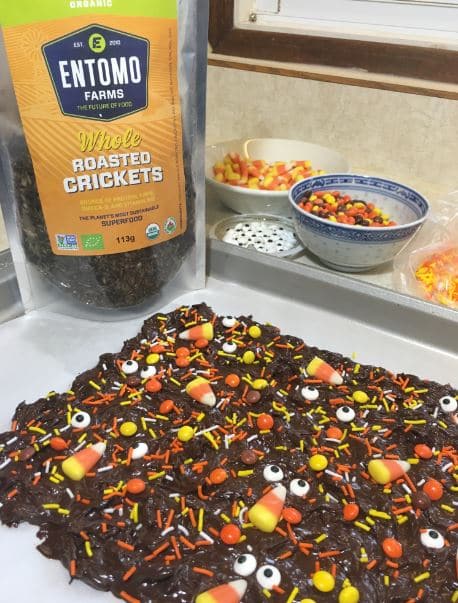 Chocolate Cricket Bark
If you are hosting a Halloween party, or any other kind of party for that matter, and want to find a way to energize and provide nutrients to a dessert that otherwise doesn't boast many, adding whole roasted crickets to this candy covered chocolate bark is a great way to make that happen. Use candies that relate to your party's theme!
Ingredients
1 ½ cups semisweet chocolate chips
1 tsp coconut oil
Pinch of sea salt
½ – ¾ cup (50 g) Entomo Farms whole roasted crickets
Halloween candies (or other themed candies) and sprinkles for decorating – approx. ½ cup total
Optional – chopped nuts
Directions
Line a baking sheet with parchment paper
Melt chocolate chips in double boiler or in microwave
Stir in coconut oil and sea salt
Fold in roasted crickets
Spread mixture onto parchment lined baking sheet and decorate.
Place into refrigerator for 20-30 minutes then chop up and serve!