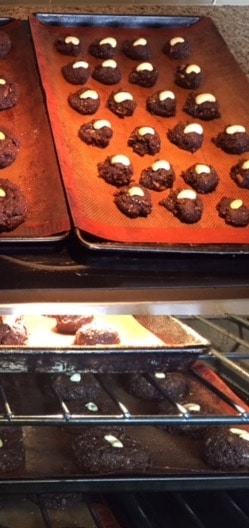 Choco Power Chompers
This recipe for Choco Power Chompers is the perfect Cricket Powder Cookie thanks to our customer Scott! Scott has a bunch of other amazing recipes, so make sure to follow him @devchef on Instagram, Facebook and Twitter!
Dry Ingredients
1/2 cup Cricket Powder (or Chia Flour)
1/2 cup Walnuts
1/2 cup Coconut Flour
1/2 cup Dark Chocolate Chips
1/2 cup Wheat Bran
1/2 cup Cocoa Powder
1/2 cup Pumpkin Seeds
1/4 cup Chia Seed
1/4 cup Hemp Seed
1/4 cup Flax Seed
1/2 tsp Cayenne Pepper
1 Tbsp Chinese 5 Spice
1 tsp Salt
1/4 tsp Xanthan Gum
1 tsp Baking Powder
1/2 tsp Baking Soda
Wet Ingredients
1 1/2 cup Dates
1 cup Water
1 Banana (over ripe)
3 Eggs
1/2 cup Almond or Peanut Butter
2/3 cup Coconut Oil, melted, room temperature
Directions
Steam the dates in the water for 20-30 minutes until soft. Allow to cool down.
Combine all the dry ingredients.
Combine the wet ingredients in a blender and puree until they are smooth.
Mix in dry ingredients until just combined.
Scoop onto baking sheets.
Bake at 325 degrees for 15-17 minutes.
They should still be soft.