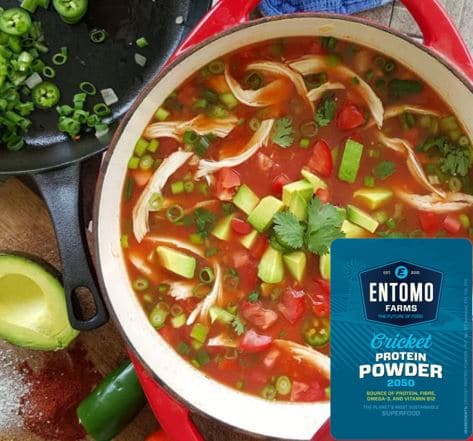 Chicken Cricket Tortilla Soup
We can not thank Rachel Maser (AKA @cleanfoodcrush) enough for letting us make our own variation of her Chicken Tortilla Soup. When I saw the photo of this delicious hearty soup, I knew that it would be an amazing dish to 'crickify' by adding some cricket powder (cricket flour) to it. The addition of cricket powder provides protein, calcium, B12, iron, all 9 essential amino acids, the perfect omega 3:6 ratio, prebiotic fibre and much more. It is very easy to add cricket powder into anything that you already bake, cook, or prepare at home! Rachel's story is such an inspiring one, and her recipes are fantastic! Check out her website, and follow her on Instagram, Facebook and twitter!
Ingredients
Makes 6-8 servings
1 (46 ounce) can low sodium chicken broth
1 (15 ounce) can organic tomato sauce, or enchilada sauce (I prefer the enchilada)
1 (15 ounce) fresh, or canned organic diced tomatoes
4 cups cooked chicken, shredded (I used rotisserie from the Whole Foods deli)
1-3 anaheim chili's, diced (depending on heat preferences)
1-2 small jalapeno peppers, seeded & diced
1 cup diced yellow onion
4-6 large fresh tomatoes, diced
2 garlic cloves, minced
4 Tbsp minced fresh cilantro
*4Tbsp (40 g) cricket powder (cricket flour)
1 Tbsp chili powder
3 tsps cumin
2 tsps freshly ground pepper
1 tsp sea salt
2 tsps Chipotle Tabasco sauce
Garnish Suggestions:
avocado, diced
green onion, chopped
fresh cherry tomatoes, halved
cilantro leaves
lime wedges
crushed non-gmo blue tortilla chips
Directions
1. Place everything except the garnishes in the crock pot and cook on high for 5-6 hours.
2. Ladle into serving bowls, let everyone garnish as they choose, and add a good squeeze of lime!
3. If you are not using a crock pot, sauté the garlic and onion in 1 Tbsp olive oil in hot stock pot, before adding the remaining ingredients.
4. Simmer on medium-ish heat for at least an hour or two so that the flavors combine.
This soup is even better the next day!
Consider doubling to make your week easier!
* The Cricket Powder is not part of Rachel Maser's original recipe. Entomo Farms has been granted permission by Rachel to add cricket powder to her recipe.