Bite-Sized Chocolate Chip Cricket Cookies
An easy recipe for grandma's cookies and a great way to introduce friends and family to a sweet treat made with cricket powder. Make them big, make them small, each cookie still has that extra punch of nutrition thanks to the cricket protein!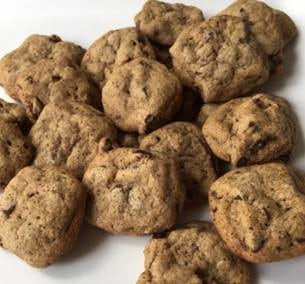 Ingredients
Makes Approximately 40 Cookies
½ cup butter (soft)
½ cup sugar
½ cup brown sugar
1 egg
1 tsp vanilla
½ tsp baking soda
1 tsp hot water
¼ tsp salt
1 1/4 cup flour
¼ cup (35 g) cricket powder
¾ cup mini chocolate chips
Directions
Preheat oven to 350F
In large mixing bowl cream together butter and sugars.
Beat in egg and vanilla.
Dissolve baking soda in hot water and add to butter mix with the salt.
In a second bowl whisk together the flour and cricket powder, then add to the wet mix. Stir just until combined and fold in the mini chocolate chips.
Use a tsp to spoon dough onto a cookie sheet and bake for 10 –12 minutes until edges are golden brown. You can also roll the dough into a cylinder and cut off cookie circles to bake.
These freeze well and make excellent one bite cookies for school days or late night sweets! Enjoy!