Mealworm Powder Banana Bread with Browned Butter Icing
This delicious recipe comes to us from Chelsea. She used our Cricket Powder Banana Bread recipe, but substituted mealworm powder. Then she added some chopped pecans, and made her own icing with browned butter topped with crispy whole-roasted crickets.
Thanks Chelsea!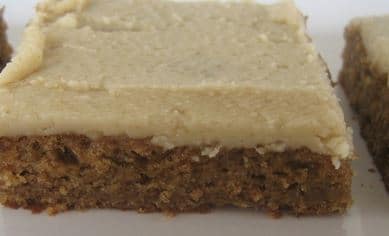 Directions
Mealworm Banana Bread
Follow the recipe for the Cricket Banana Bread on our website, substituting the mealworm powder for the cricket powder, and adding the 1/2 cup of chopped pecans into the batter.
In a small saucepan, melt butter over medium heat until medium golden, about 10 minutes.  Remove pan from heat and pour butter into a bowl, leaving any burned sediment behind. (watch carefully, but don't stir)
Add sugar, vanilla, cricket powder and 1 Tbsp of milk; stir until smooth and spreadable but not runny.  (If too thick, you can add up to 1 Tbsp more milk a little at a time.) Let cool 5 minutes, then spread.
Finally, garnish with whole-roasted crickets rolled in butter and salt.