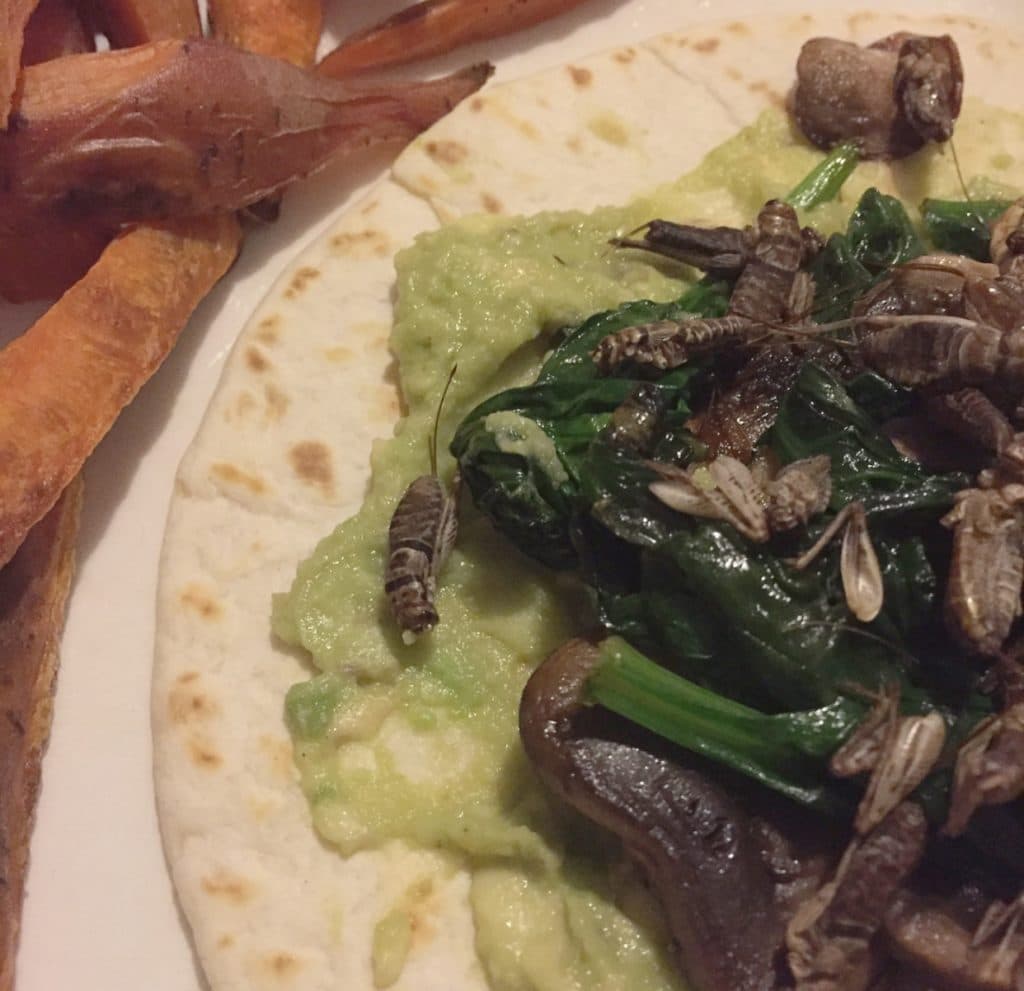 Avocado Cricket Toast
Thank you so much to Entomo Farms customer, Laurie, for sending us in this awesome recipe! Laurie is new to eating insects, and she was amazed by how delicious they are.
"I received my package an hour ago and just ate a serving of whole crickets. I think it tastes fantastic! I'm actually surprised. My first introduction to crickets was via flour-based cricket protein bars, but I like the crickets themselves a lot more. The aftertaste is a lot better, in my opinion, than those I got from these products. Not that they were bad, but I like them better unprocessed! I'm excited to try them in salads, too."
Avocado Cricket Toast on Soft Tacos with Spinach and Mushroom
Ingredients
4 tortillas (white or whole wheat)
2 avocados, ripe
2 limes
2 cups of spinach
One pack of white or brown mushroom (about 10 units)
2/3 cup of whole crickets
Tabasco, to taste
Salt and pepper, to taste
Coconut oil (can be substituted for any other cooking oil)
1 large-sized sweet potato or 2 medium-sized
Coconut oil (can be substituted for any other cooking oil)
Recipe (2 servings)

Sweet potatoes fries :
1 – Preheat the oven at 425F.
1 – Wash the sweet potatoes and cut in even slices.
2 – In a medium-sized pot, bring water to a boil.
3 – Boil the sweet potatoes until soft ; a fork should pick right through. Be careful not to overcook, though, or you will get soggy fries!
4 – Use parchment paper on a baking sheet. Spread a thin layer of coconut oil for extra flavour.
5 – Drain the sweet potatoes fries and spread evenly on the baking sheet.
6 – Pop them in the oven for about 8 minutes, then flip them over. Cook for an additional 6 minutes, or a bit more for extra crisp fries.
Directions
1 – Wash and wipe clean the mushrooms. Rinse the spinach.
2 – Cut the mushrooms and the spinach in thin slices.
3 – In a medium-sized pan, cook the mushrooms and spinach together with a little bit of oil over medium heat for about 10 minutes, uncovered. Stir occasionally. Add salt and pepper, to taste.
4 – During that time, slice the 2 avocados in half and remove the pit.
5 – Mash the avocados flesh with the juice of two limes until smooth. Add Tabasco, salt and pepper to taste. Set aside.
6 – Once the spinach and mushrooms are cooked to taste, set aside in a bowl.
7 – Use the still warm pan to warm up the 4 tortillas. Keeping the heat at medium, drop a tortilla in the pan. Wait about 15 seconds, then filp over. Cook for an extra 15 seconds, then set aside.
8 – Time to assemble! Split the avocados, veggies and crickets evenly, in that order, on the warm tortillas.
9 – Add the sweet potatoes fries to the plate, and serve.