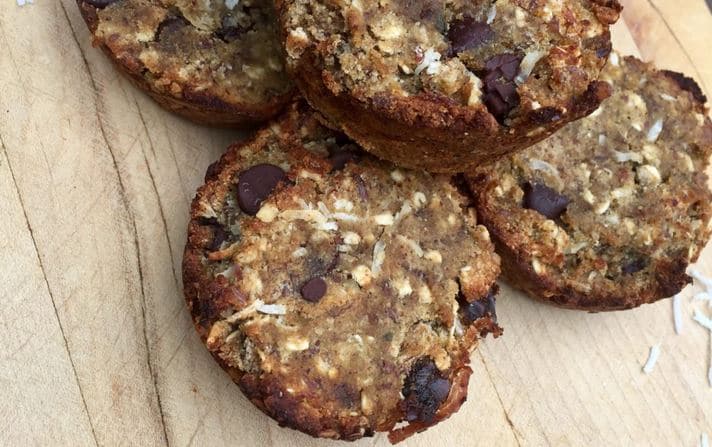 Avocado Banana Cricket Muffins
Thanks so much to Andrea for this delicious recipe! She has many on her website, so definitely check them out. Make sure to follow her on Twitter and Facebook to keep up to date on all her informative and interesting posts!
There are lots of sneaky ingredients in this recipe, from apple sauce to mashed avocado. But the real secret is the cricket powder from Entomo Farms! It adds protein, B vitamins and omega 3 to this recipe and you can't even tell they're in there! You can still try these recipes without the cricket flour if you don't have any. These muffins are high fibre and low in added sugar.
The coconut flour makes these quite dense, feel free to experiment with using wheat flour, ground oats (oat flour) or another type.
Makes 15 muffins.
Ingredients
3/4 cup quick oats
3/4 cup coconut flour
1/4 cup (40 g) cricket powder
1/4 cup ground flax seed
1-2 tsp baking powder
2 very ripe bananas (med-large), mashed
1 ripe avocado, mashed
1 egg
1/4 cup apple sauce
1/3 cup chocolate chips
1/4 cup coconut
1/4 cup chopped dates
1/4 cup chopped pecans
Directions
1. Preheat oven to 350F. Grease a muffin tin.
2. Mix dry ingredients in a bowl (oats, flour, cricket powder, flax seed and baking powder). In a separate larger bowl, mix the wet ingredients. Fold the dry into the wet and be careful not to over mix.
3. Divide the batter evenly between the muffin tins (makes 15).
4. Bake in the over for about 25 minutes.
5. Allow to cool before removing from the tin.
Enjoy!